Ex-Chelsea Footballer Suspended After Starting Brawl in China
Tap "ChinaWire" !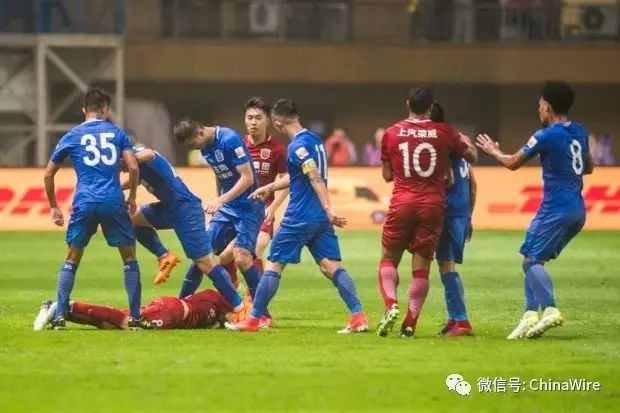 source: metro.co.uk

Oscar has been banned for eight games by the Chinese Football Association for the part he played in a mass brawl in a game between Shanghai SIPG and Guangzhou R&F.


The former Chelsea star left England last year to join the Chinese revolution, but landed himself in hot water in his side's 1-1 draw last Sunday.
Oscar deliberately kicked the ball into two Guangzhou players which infuriated the opposing side.
An incredible brawl broke out as Oscar was pushed to the floor and two players were sent off.
'Oscar's immoral foul, which sparked a massive bust-up on the pitch, has had a huge negative impact on China's professional football leagues,' read a statement of CFA.
'The CFA always attaches great importance to the issue of discipline, taking great pains to root out the violent fouls and other unsportsmanlike behaviour.
'Hopefully disciplinary offences would be severely punished by all clubs and efforts shall be made to maintain the order of the games and protect the development of football.'
Oscar will not play again for his side until August 13 and was also hit with a 35,000 rmb fine for his behaviour.
The melee was so unusual that the CFA consulted the English FA on how best to deal with the incident.
A hearing on Wednesday reviewed evidence and testimony, but Oscar did not attend.
Check out www.echinawire.com for more content!

---
Subscribe by scanning below QR codes to get started.


A convenient way for foreigners and Chinese to buy real foreign imported products while living in China. Stay with ShopWire as we expand our products range. You can use either WeChat wallet or PayPal to purchase our products!
---

ChinaWire is the largest English WeChat Official account in China with over 150k subscribers. We post articles related to china and around the world as well as a survival mandarin section to help foreigners improve their Chinese skills.
---

WorldWire is a diversified account which mainly publishes breaking world news, entertainment, lifestyle, culinary and sports news from around the world.
---

Shop在線 is the Chinese version of ShopWire mainly for Chinese Customers. You can also use it if you are a foreigner with great chinese skills or introduce it to your Chinese friends. We guarantee only real imported products are sold on our shop.