Sharp Comedy Packs Nanjing Theatre for Two Consecutive Weekends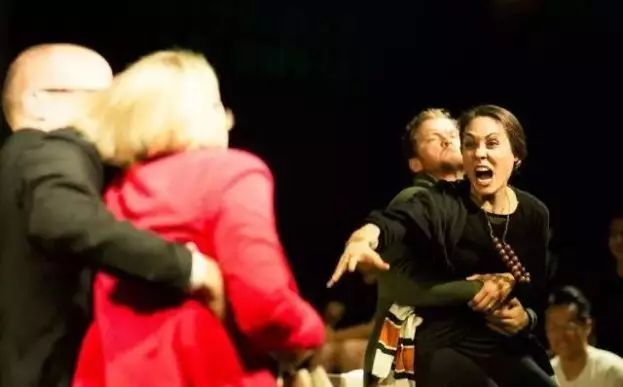 The theatre was packed, half foreign, half Chinese, all eagerly awaiting the start of the show as we sat intimately around the stage. A tiny living room made up the stage; just enough space for the four actors to entertain us with what was to be 70 minutes of laughter and tears drawn from very relatable content.
It was the closing night, a sold out two weeks of entertainment had passed and tonight Nanjing saw the finale of Parental Control, a rather surprising comedy directed toward parents, newbie parents and soon to be parents.
They say one can only understand parental woes and the turbulent differences of opinion after one has actually experienced it for oneself. However, the hard truths and awkward contradictions exposed throughout this rather sharp comedy help anyone to relate, loathe and laugh and the idiosyncratic battles of parenting.
The play started off necessarily slow for it certainly heated up towards the end with glasses flying, water falling and tears flowing. The script really spoke for itself; using few props it allowed the actors to fully channel the role they were playing and engage intimately with the audience. The smallest of intent facial expressions were noticeable and spoke a thousand words; fancy cameras were not needed.

The play was a comedic observation of parenting on all levels; it spoke to everyone in the theatre. As witty as it was, one can assume that the Chinese audience out of view of the subtitles may have missed a layer of depth in understanding that other audience members enjoyed. In saying that, one can also safely assume that the quality of comedic entertainment from the actors was enough to give them a solid understanding of what it was all about.
Hailing from a vast range of professional acting backgrounds and joining together in Nanjing, International Spice brings to the table a wealth of theatre knowledge and practice. Stage trained Chicagoan native Jennifer Blair-Bianco, best known for her leading role on the hit TV series "The Boston: The Kitchen Musical", is a founding member of International Spice and played up-tight, save-the-world "perfect" mother and wife, Veronica. Elsewhere in the production, theatre director Drew Fethers used his 13 years of theatre knowledge to give a real edge to his overworked and aloof character, Alan.
Overseeing the entire production was British director Bill Aitchison, who has had his work presented in galleries, theatres, festivals and museums all over the world and now teaches at Nanjing University.
Michigan native David Bianco, who has appeared in over 40 international theatrical productions across the North America, Europe and China, took to the stage as Michael, the soft, slightly repressed husband and father, while playing the role of a pent-up, overly nauseous and hilariously drunk mother and wife, Annette, was Erika Mitschrich, who during her time in Shanghai was on the board of the East West Theatre Company and performed in several plays. Another founding member of International Spice, she has taught English literature and drama in China for 10 years.
"10 years ago I went to see the show Aida, in Nanjing, when it came through town. I went with a Chinese colleague of mine who brought with her cookies, chips and other snacks. All the other people who went were on their phones the whole time; it is interesting for me to see [theatre] etiquette change over time. There seems to be a bigger more genuine interest in theatre now than before", actress Erika Mitschrich told the Nanjinger. It is no wonder the quality of Parental Control was of such as high degree when one combines the efforts of all the actors, actresses, directors and producers.
With Parental Control and the success of Asuncion last winter, a rise in appreciation of international arts is becoming apparent among the Chinese. "What is surprising is the big interest we had at our show from young Chinese communities. One audience member expressed her surprise at the similarities between Western and Chinese parents saying that we are all as crazy as each other and that both Western and Chinese parents can be just as uncivilised when it comes to dealing with their children, which was nice to hear, it is nice to see our show build a bridge like that, through comedy," said Mitschrich.
"With our shows, we are seeing a great interest in theatre and the arts which is wonderful to see, I feel so happy to see cross cultural exchanges and a growth in artistic outlets finally appearing in Nanjing".
MORE FROM THE NANJINGER
Many more stories can be found at
www.thenanjinger.com
We are also always on the lookout for new talent to join our stable of writers. If you think you have what it takes, contact us via www.thenanjinger.com