12 Nanjing Drug Dealers Sentenced to Death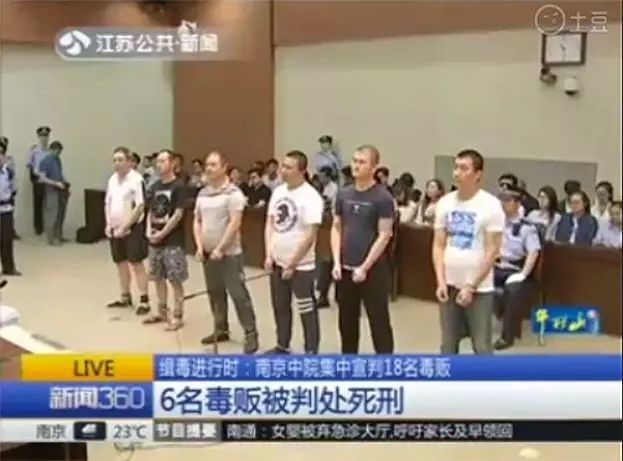 Nanjing yesterday saw a severe crackdown on drug offenders in a very publicised trial. Eighteen men were on trial for various offences, ranging from trafficking and possession to drug abuse and re-offending.
Of those on trial, a total of six men were sentenced to an immediate death sentence, while a further six received postponed death sentences, with the remaining six receiving long jail terms, and forced rehabilitation. The sentencing comes just four days before the "International Day Against Drugs", while it has also been reported that Nanjing Intermediate People's Court has installed a new court specifically to handle and crack down harshly on drug offenders.
For the six men whom have been handed a postponed death sentence, they have also had their political rights stripped for life. In the cases of the men who were convicted of comparatively minor crimes, they have received jail time, repossession of property, a stripping of political rights and heavy fines. In addition, the men were named, photographed and shamed, where in a country such as China, public shame proves a punishment in itself.
The men were convicted of trying to smuggle drugs inside tires, mattresses and various other objects, which had been sent from southern Chinese provinces to Nanjing, to be sold on the street. One man had ingested a large amount of heroin before flying from Yunnan to Nanjing, Nanjing police found the drugs hidden in the bed awaiting a pick up; he was sentenced to 15 years.
The use of bankcards, cell phones and WeChat transfer were all used in order to commit the crimes and assisted the police in catching the criminals. The men were all convicted of trying to either traffic, conceal, possess or use methamphetamine, ketamine and heroin.
Nanjing Intermediate People's Court said in a statement that Nanjing courts will continue to maintain a severe crackdown on drug-related crimes, drug traffickers, occupational drug traffickers, recidivists, drug recidivism, serious crimes and subject vicious deep, socially harmful criminals to severe punishment, determined in accordance with the law on the type of crime, focusing on severely punishing smuggling, manufacturing drugs, bulk drug trafficking and other serious drug crimes.
If the nature of the crime is deemed to be of a lesser degree, or if one is an accomplice, has surrendered, or it is a first offense, leniency will be practiced.
MORE FROM THE NANJINGER
Many more stories can be found at
www.thenanjinger.com
We are also always on the lookout for new talent to join our stable of writers. If you think you have what it takes, contact us via www.thenanjinger.com