Covestro Demonstrates Latest PU Coating Solutions at ChinaCoat
Covestro Demonstrates Latest PU Coating Solutions at ChinaCoat
Covestro premiered at ChinaCoat 2015 with a colorful identity and a powerful motto "Inventing polymer solutions for you". The Coatings, Adhesives and Specialties (CAS) Business Unit of Covestro showcased its latest polyurethane (PU) coating and adhesive solutions for transportation, construction & living as well as consumer sectors. The latest developments beyond the coating and adhesive world were also demonstrated. Covestro reaffirmed its pledge to support customers and partners across the value chain to address the growing market needs of performance excellence, higher efficiency and sustainability, fulfilling Covestro's vision, "to make the world a brighter place". (Covestro Booth No. E3, C05-10)
"At Covestro, 'inventing' means working on big and small innovations to create added value for our customers. 'For you' reflects our customer centric approach. We leverage our expertise in PU technology and applications to bring new products and solutions to the market, while having a shorter innovation cycle through joint efforts across the value chain," said Zhong Xiaobin, Senior Vice President of CAS Business Unit Asia Pacific at Covestro.
Inventing superior appearance for automotive
In the Asia Pacific automotive market, PU clearcoat has high penetration among premium automotive brands due to its superior quality and performance. In recent years, many middle to high class automotive brands have switched to PU clearcoat solutions in pursuit of a better appearance and improved performance for their cars, which highly correlates to their brand image. PU penetration in clearcoat within the Asia Pacific's light vehicle market is estimated at 17% versus 40% globally, and it is expected to increase to 22% by 2018. (Data from Covestro)
With a deep understanding of market trends and needs, Covestro offers integrated 1-component and 2-component PU clearcoat solutions to customers, and promotes the benefits of PU to automotive brands who consider upgrading their technology. PU clearcoat solutions from Covestro have an unparalleled performance with protection from scratches, environmental etch, weathering and acid rain as well as self-healing capabilities. Covestro also has new developments for faster curing, low VOC emissions and the low temperature coating process, suitable for in-line coating of metal and plastic parts.
With Desmodur® blulogiq 3190, Covestro developed the first thermolatent hardener for the plastics application area. The product solves the speed and appearance dilemma, which allows the industry to convert to a fast and efficient process without compromising on the ultimate goal of optimal appearance. In addition, the thermolatent hardener improves the initial mechanical robustness of the coating, which leads to easier and faster post-processing, less scrap and the opportunity to reduce the curing time by up to 30%. For plastics application, Desmodur® blulogiq 3190 is a near drop-in solution for customers, resulting in very low reformulation work. The product will be a key technology for OEM-metal painting lines in the future by offering a solution at temperatures below 100°C and enabling the coating of metal and plastic parts in just one-step.
Inventing sustainability for transportation
In recent years, rising concerns about air pollution, energy consumption and other environmental protection issues in Chinese society have led to more strict environmental regulations and policies for various industries. Take the transportation industry as an example, the Beijing government has released a new emission standard of air pollutants for transportation vehicles.

Equipped with first-hand experience from formulation design, production, spray application and performance testing, Covestro is reshaping challenges into opportunities by helping transportation operators and OEMs to meet strict local regulations with 2-component waterborne PU topcoat solutions. Highlighted at ChinaCoat, the solution's latest development is able to significantly reduce the VOC emissions from 600 g/l to 250 g/l as well as provide a more robust application window.
Since 2008, Covestro's 2-component PU waterborne coating solution has been applied to 29,000 large vehicles in China such as buses, box vans, metro vehicles and freight trains.
Inventing efficiency for construction
To address the needs of higher performance and efficiency, as well as better sustainability in construction coating, Covestro has introduced its innovative PASQUICKTM polyaspartic technology for floor coating applications. The solution significantly improves efficiency due to its fast curing and high bubble free film thickness feature. By using this technology, applicators will be able to finish surface treatments, basecoats and topcoats in just one day. Furthermore, it allows processing at a low temperature and minimizes the VOC emission since it can be 100% solvent free. The solution is suitable for both outdoor and interior applications such as odorless comfort and sports flooring.
Inventing naturalness for furniture
Covestro introduced a novel lightfast hardener Desmodur® XT 190 for polyurethane wood coatings. As a newly developed product to meet local market needs, it provides anti-yellowing properties that can be formulated in line with national standards for 2-component polyurethane wood coatings. In addition, its well-designed chemical structure improves drying and sanding thus giving applicators higher efficiency and productivity. The solution is suitable for pigmented and high-end clear wood coatings where anti-yellowing properties are needed to enhance the beauty and authentic nature of the wood.
Inventing inspiring PU solutions for the future
Innovation is deeply rooted in Covestro's DNA. Covestro is not only developing innovative coating solutions but also leveraging superior performance of PU to bring more value to people's life beyond the coatings world.
New application of PU in ophthalmic lenses is one of the examples demonstrating this spirit. Aliphatic PU derivatives enable ophthalmic lenses to be thinner, lighter and stronger to make eyeglass wearers' life better. Another good example is flexible aliphatic PU foam. It offers superior color fastness, being able to keep the beauty of products such as lingerie to meet consumer need for non-yellowing products. In the meantime, Covestro is pushing forward the use of PU in 3D printing and contributing to shape next generation production technology together with partners. Through the application of PU, individualization and customization can occur through different material properties.
"Our vision for a brighter world is strongly based on market driven innovation. We listen to the market, and learn what customers and consumers want and need today, tomorrow and beyond. We hope our new developments can inspire our partners and that together we can bring innovative solutions to the market," said Zhong Xiaobin.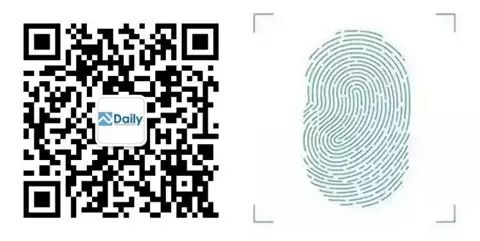 長按指紋 識別圖中二維碼 可以獲取更多PUdaily 獨家行業信息
Press fingerprint :Access to PUdaily Exclusive News