Free Tickets: Tonights Spark Party with former top 25 DJ Amadeus
Amadeus @ Spark on Wednesday 25.11 get in for FREE
with our new Nightlife Guide
Get on the guestlist and see Amadeus for free by writing your names into the InternsInBeijing account
Thanksgiving EDM Party with Star DJ -

* Former World Top 25 DJ | 世界排名前25位的DJ

* Dj Amadeus from New York has opened for Tiesto, Swedish House Mafia, Armin van Buuren, Bob Sinclar, Paul Oakenfold, Kaskade

* Producer of Multiple Top 25 songs on Beatport 2014/2015

A thanksgiving themed night filled with the best of Electro House, Deep House, Tropical & Future House
Write a PM to Jeff (Wechat ID: Swiss54)
get free entry for you and all your friends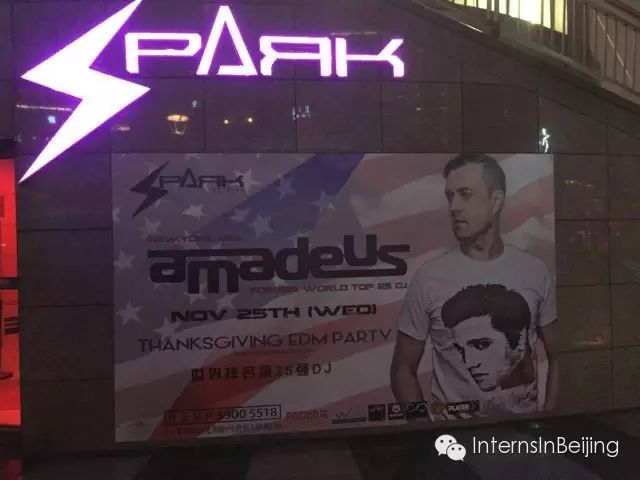 Follow our account to win more tickets in the future
Write the names of all your friends into the InternsInBeijing account before 7pm on Wednesday and get free entrance to the amazing party on Wednesday with DJ Amadeus!

Wednesday 25.11
9pm - late
1. Ask your friends to join you
2. Send all your full names into the InternsInBeijing Wechat account togehter with your Wechat ID
4. Go to the Party on Wednesday and say you are on the InternsInBeijing guest list and enjoy the night.
See DJ Amadeus live in Spark
Tell your friend to follow and increase your chances to win more tickets in the future
Reserve your tables and get a spot on the guest list of participating clubs
Follow us to reserve your tables and get guest list spots
For cooperation & questions please contact Wechat ID Swiss54
Click "Read more" to see how the nightlife guide works