Your Kids will be Awesome at this Holiday Camp
Awesome Kid's Club invites awesome toddlers and kids in Shanghai for fun and active camp days at their annual Happy Holiday Camp! This year they are happy to host the camp for children up to 10 years old at Shanghai Town & Country Community. As usual young toddlers are welcome in their classrooms at The Summit Club for the camp.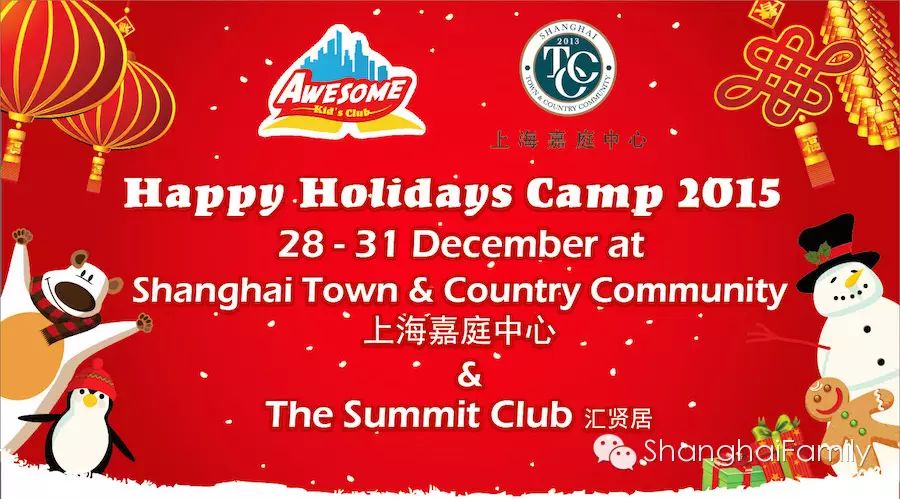 At Happy Holidays Camp your child will do craft, explore, read books, play games, sing and dance, do physical activities, have snack time and lunch (and nap if needed) and use English and Chinese together with our awesome camp teachers and other awesome kids.

Camp Details @ STCC
When: December 28-31 (4 days)
Time: 8:30am – 3:30pm
Where: STCC 46 LuDing Lu

Age groups: 1 – 4 years old (minimum 5 kids); 5-10 years old (minimum 5 kids)
Fee: RMB2200, including lunch and snack. Single Day(s): RMB600 including lunch/snack.
Camp Details @ The Summit
When: December 28-31 (4 days)

Time: 8:30 – 15:30
Where: 99 Wulumuqi Middle Rd at The Summit Club
Age group: 1 – 4 years old (min. 5 kids)
Fee: RMB1800, add RMB40/day for lunch and snack
To register click on 'Read More' or email [email protected] or call 021- 5403-9916