Italian Wine Tasting @ Langham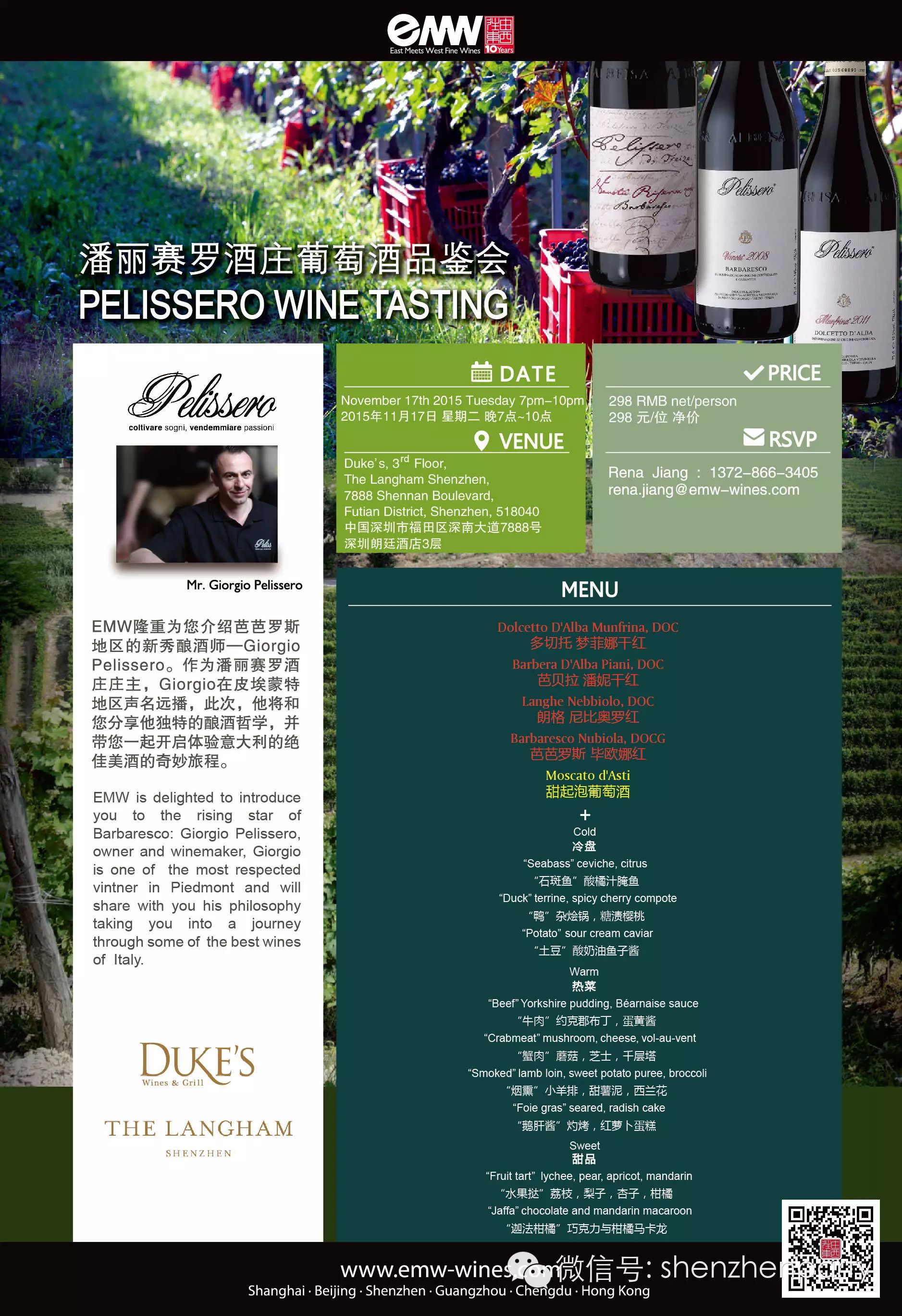 EMW is delighted to introduce you to the rising star of Barbaresco: Giorgio Pelissero, owner and winemaker, Giorgio is one of the most respected vintner in Piedmont and will share with you his philosophy taking you into a journey through some of the best wines of Italy.
Date: November 17th 2015, Tuesday 7 p.m.-10 p.m.
Address:Duke's, Langham Shenzhen
Wine List:
Pelissero, Dolcetto D'Alba Munfrina, DOC
Pelissero, Barbera D'Alba Piani, DOC
Pelissero, Langhe Nebbiolo, DOC
Pelissero, Barbaresco Nubiola, DOCG
Pelissero, Moscato d'Asti
Menu:
Cold
"Seabass" ceviche, citrus
"Duck" terrine, spice cherry compote
"Potato" sour cream caviar

Warm
"Beef" Yorkshire pudding, béarnaise sauce
"Crabmeat" mushroom, cheese, vol-au-vent
"Smoked" lamb loin, sweet potato puree, broccolini
"Foie gras" seared, radish cake
Sweet
"Fruit Tart" lychee, pear, apricot, mandarin
"Jaffa" chocolate and mandarin macaroon
EMW隆重為您介紹巴巴羅斯克地區的新秀釀酒師-Giorgio Pelissero。作為潘麗賽羅酒莊莊主,Giorgio在皮埃蒙特地區聲名遠播。此次,他將和您分享他獨特的釀酒哲學,並帶您一起開啟體驗意大利的絕佳美酒的奇妙旅程。
時間:2015年11月17日,星期二,晚7點-10點
地點:深圳朗廷酒店Duke's 吧
酒單:
潘麗賽羅酒莊,多切托 夢菲娜乾紅
潘麗賽羅酒莊,芭貝拉 潘妮乾紅
潘麗賽羅酒莊,芭貝拉 潘妮乾紅
潘麗賽羅酒莊,芭芭羅斯 畢歐娜紅
潘麗賽羅酒莊,甜起泡葡萄酒
菜單:
冷盤
"石斑魚"酸橘汁腌魚
"鴨"雜燴鍋,糖漬櫻桃
"土豆"酸奶油魚子醬
熱菜
"牛肉"約克郡布丁,蛋黃醬
"蟹肉"蘑菇,芝士,千層塔
"煙熏"小羊排,甜薯泥,西蘭花
"鵝肝醬"灼烤,紅蘿蔔蛋糕
甜品
"水果撻"荔枝,梨子,杏子,柑橘
"迦法柑橘"巧克力與柑橘馬卡龍
Event Date: Tuesday, November 17, 2015 - 7:00pm - 10:00pm
Pricing Info: 298RMB/person
Booking Phone Number: 13728663405
Place Name : Duke's
Place Address: Level 3, The Langham, Shenzhen, 7888 Shennan Boulevard, Futian District, Shenzhen 深圳市福田區深南大道7888號深圳朗廷酒店3層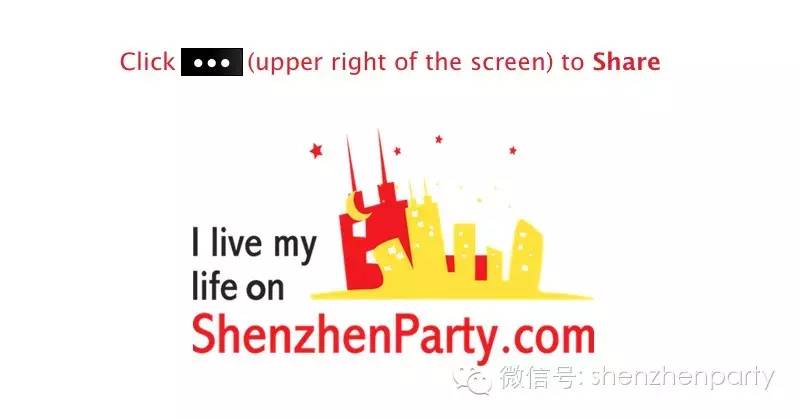 ---
Long-press the QR Code, tap "Extract QR Code" to Follow "shenzhenparty" on Wechat:
For more details, please click "Read More".