MUST-READ for parents: air filters & air quality
Prologue:
This is not an ad, not an advertorial, but a 100% frank article about a product that we found in Shanghai.
The reason why I'm focusing on it so much is simple: I'm a parent, we're living in China, and I am obsessed with air quality.
Introduction:
The Origins Laser Egg is an accurate AQI monitor / reader device. It's the first of its kind that we've heard about, and this isn't a 'product review', because simply and factually, it does work.
It measures the PM2.5 and gives an AQI (air quality index) reading.

Some air filters have this function, but it feels as though it's in the machine's vested interest to improve the reading when switched on - and it isn't a mobile solution!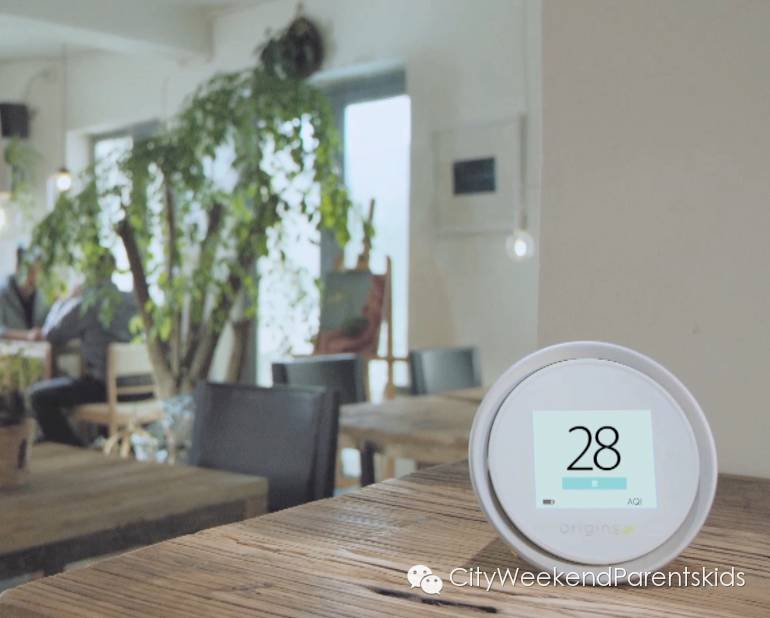 What this is about is the experience of using it in daily life.
Why it's a game-changer:
So as I said, I'm obsessed with air quality. I check the wind forecast in advance (the BBC website shows wind directions), I read everything I can about it.

The house is full of air filters, we have an in-car air filter, Vogmask facemasks, the works.
Of course, some might say that this is overdoing it, but it's fine with me. My job is to take on obsession with my kids' health!
Despite all the readings, and some air filters having an AQI reading on them, I found the portability of the laser egg an eye-opener.
It gave me the ability to have accurate, instant information and adapt to it.
For example, I took it into the car. Using the re-circulate button on the A/C, and our Philips in-car air filter, the AQI reading was less than 10. Amazing! This was on a 180 polluted day, so you can imagine my relief to know that my kids were indeed protected in the car.
I also took it into a couple of homes. On entering a home which hadn't had air-filters on, the reading was 150. Ditto in a couple of offices that didn't have filters, only a/c - around 150.
Take this to your office - and to your gyms!

In one home, with the air filters on full blast, it did indeed decrease to around 20-40. And in one of the homes, one room went down while the other only went down to around 100. So it was clearly time to change that machine's filter.
I also took it to a couple of shopping malls. The readings differed between 50 and 150, so I was able to know where we should go for a winter weekend mall-day.
Again, it might seem a little over the top to take inspections, and some could even say that there is a delicate mental health issue to this, something about our children not needing to feel worried due to their parents concerns about air pollution.
But as a Dad, I'll trust my opinion that I need to ensure that my family is breathing in the least pollution possible.
The conclusion is that this simple product made me feel more in control and absolutely more knowledgable about the air situation.
As mentioned, this isn't a commercial plug, so you can feel free to search for the Origins Laser Egg - or any brand - that you want to.
More about air pollution:
As mentioned, you can check the www.bbc.co.uk/weather site for Shanghai's wind forecast. As a general rule, the wind-speed of 9 or 10 affects the pollution. Of course, wind from the East, from the sea, clears things up.

That's why 2015 was such a good year for air-quality (until now), because there were continual strong winds from the East, from February all the way to October. So if you see a forecast of low wind speeds, and coming from the North or the West, prepare for worse air and act accordingly.
The general pollution forecast:
It can be frankly said that the situation is improving. The very general, official comments issued can sometimes be meaningless, stating that 'measures are being taken' etc. etc.
Yet one factor which has made a difference was last year's ban on crop burning, from 1 October 2014. The official statistics were that crop burning contributed 10% of air pollution. But bearing in mind that the crops were burnt in just two months, between October and December, this was a big difference, and has allayed fears of those horrific AQI 300+ times of before.
Also, major factories in Shanghai are already beginning to wind down, ahead of a 2016, and even larger, subsequent 2017 clearing of the worst polluters in the region.
Until then, all we can do is keep hoping for a helpful weather situation, and using tools such as air filters and AQI readers to monitor the situation ourselves.
Follow City Weekend Parents & Kids for more health updates.