Enjoy a weekend of laughs at Kung Fu Komedy Club
Do you like laughing? You probably do, unless you are one of those people who constantly frets about laughter lines, are a moody goth with an image to think about, or else are an inanimate object with no actual mouth. In fact if you are any of those things that allow us to suggest that you might be in dire need of a humour fix which could come courtesy of Kung Fu Komedy Club's brand new space just below Kartel on Xiangyang Bei Lu – which opens tomorrow night.

The news comes as a welcome resolution to the venue issues Kung Fu Komedy has had in the past year, previously having to leave Massé and subsequently popping up in various bars around town. Now it's got its own full-time space it is celebrating with a bumper weekend of laughs, kicking off on Friday 13 at 8.30pm and hosted by the winner of the 2015 Hong Kong International Comedy Festival, Drew Fralick; while the line-up will include Shanghai favourites such as Joe Schaefer, Storm Xu, and more.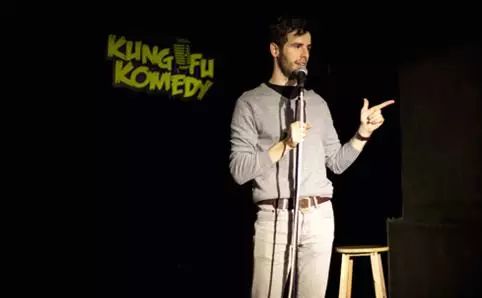 All tickets are 70RMB on the door, or 50RMB in advance, which are available on WeChat (kungfucomedy) or Alipay (137 6176 4438).

Saturday 14, also at 8.30pm, sees the launch of the first Chinese-language showcase, featuring Dashan, and a roster of talented stand-ups from both China and abroad. Next weekend, meanwhile, brings in the new club's first international headliner, the Canadian powerhouse Glenn Wool – who plays on Friday 20 at 8.30pm, and Saturday 21 at 8pm and 10pm.

Tickets are 200RMB on the door, or 170RMB in advance, which are available on 24/7 Tickets, Wechat: kungfukomedy, or Alipay: 137-6176-4438).

Now go forth and laugh! Or else, pelt rotten tomatoes.
is at 1 Xiangyang Bei Lu, near Julu Lu.