[Family] Summer And Boarding School Expo @ Hongkong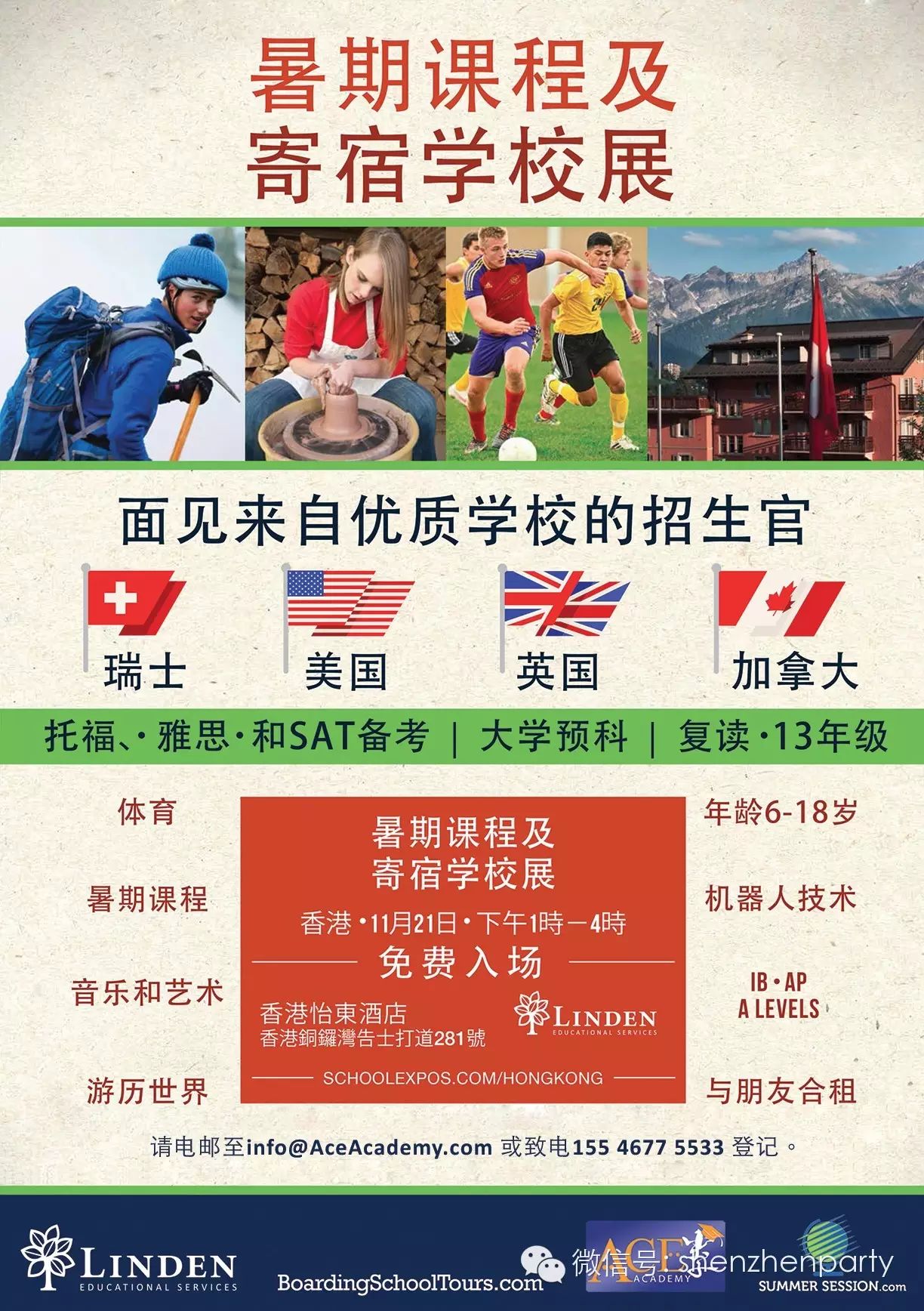 On Saturday, November 21st, a group of admission counselors representing a variety of prestigious international boarding schools will be available to speak with students and their families at the The Excelsior Hotel in Hong Kong.
The event, which is free and open to the public, is organized by Linden Educational Services, an organization dedicated to helping students connect with prestigious boarding schools and exciting summer programs around the world.
Boarding school admission representatives visiting Hong Kong this year represent a wide variety of schools in the United States and Switzerlnd. The range of academic programs and activities at these schools is extensive and most offer exciting summer programs with sports, arts, science & robotics, and more.
For registration, please send email to [email protected] or call (86) 155 4677 5533.
週六11月21日,一批代表世界各地著名國際寄宿學校的收生輔導員將抽空於香港怡東酒店 與學生和他們的家庭對談。
是次活動由林登教育服務(Linden Educational Services)主辦,免費向公眾開放。林登教育服務 (Linden Educational Services)致力於幫助學生與著名寄宿學校聯絡和組織安排學生於世界各地參與 精彩的暑期活動。
今年,寄宿學校的收生代表來港,他們代表了美國和瑞士的各大小院校。這些院校的學術課程和
活動範圍廣泛,大部分提供有關體育、藝術、科學和機器人技術等的精彩暑期課程。
請電郵至 [email protected] 或致電 (86) 155 4677 5533 登記。
Event Date: Saturday, November 21, 2015 - 1:00pm - 4:00pm
Pricing Info: Free entry
Booking Phone Number: (86) 155 4677 5533
Place Address: The Excelsior, 281 Gloucester Rd, Causeway Bay, Hong Kong 香港銅鑼灣告士打道281號怡東酒店



---
Long-press the QR Code, tap "Extract QR Code" to Follow "shenzhenparty" on Wechat:
For more details, please click "Read More".