Beijing's Quirkiest Chinese Restaurants
Chinese cuisine can be an endless source of culture shock for any foreigner new to the Middle Kingdom. From street-side stinky doufu to the pig intestines served at countless Chinese eateries, there's no shortage of options that will leave foreigners cringing, giggling or both. But then there are other venues that go out of their way to be strange. Beijing has plenty of examples, a mere few of which we have outlined below. Some are endearingly quirky, others are horrifically bizarre, and none will bore patrons, be they expats or local Chinese. So get ready to dig in as we present our top picks for Beijing's quirkiest restaurants.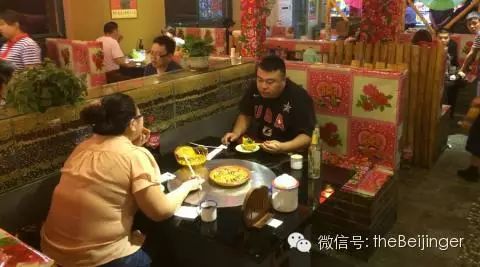 Patriotic Dongbei fare at Renmin Gongshe Dashitang

It's hard to imagine a Khmer Rouge restaurant in Cambodia, but Beijing at least has a strange fondness for Cultural Revolution-themed eateries. This restaurant not only evokes another place, but another era. Its staff cooks up authentic Dongbei (northeastern China) fare like sweet and salty guobaorou (RMB38), and the staple vegetable dish disanxian, consisting of eggplant, potatoes, and green peppers (RMB 26). Most of these menu items are hearty and wholesome to help the people of its region of origin withstand frigid temperatures. That means the food is quite palatable for most foreigners (especially those hailing from wintery locales), many of whom are still adjusting to the spicier options at southern Chinese restaurants. However, that doesn't mean Renmin Gongshe Dashitang (literaly "People's Commune Cafeteria") will disappoint foreigners craving exotic flavors. The tin drinking cups emblazoned with Communist slogans hark back to Dongbei's Maoist heyday, a sentiment echoed by the vintage newspaper pages (many dating as far back as the mid-70s) adorning the squat toilet's walls. Any curious patrons looking for surprises beyond the decor need only look further down the menu, past the more straightforward dishes to weirder fare like barbered silk worms (RMB 49 for a heaping plateful), which are crunchy on the outside, squishy soft on the inside, and feature a bitter flavor unlike anything that even the most adventurous foodies have tried.
Renmin Gongshe Dashitang
Daily 9.30am-10.30pm. 1 Shilipu Huatang Houjie, Chaoyang District (close to Sihui Station) (138 1098 8173)
人民公社大食堂:北京市朝陽區十里堡華堂後街1號 (近地鐵四惠站)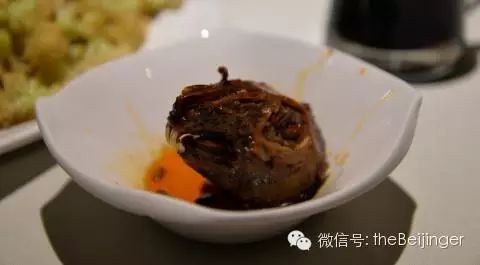 Monstrous bunny skulls at Grandma's Rabbit Head Restaurant
The notion of chewing on a cute bunny's head would surely give most foreigners pause. But those willing to try will be downright shocked when they see that braised, Sichuan-style rabbit heads are anything but adorable – instead, the pointed teeth, visible eye sockets, and nose bones make these rabbit heads look more like baby dinosaurs that will eat you if you don't dare to eat them first. Grandma's Rabbit Head Restaurant in Shuangjing is famous for serving up this creepy fare, giving patrons plastic gloves so that they can take hold of these highly affordable RMB 8 craniums and pluck out the tongues, brains, and other morsels of meat. Even the pickiest of foreigners will find the cheek flesh on these rabbit heads to be undeniably delicious, but otherwise the scant amount of meat (aside from the abundant, and unsettling, rabbit brains) will likely do little to satisfy their appetites. Thankfully, the restaurant has several other dishes to quell your hunger once the novelty of chomping on the rabbit heads wears off. Those more accessible dishes include the "sweet ginger taste rabbit" (RMB 38, chuanxing doufu), rife with tofu, and the gloriously Chinglish-titled "green pepper detonation seed rabbit" (RMB 78, qingjiao baozai tu). The rabbit meat in both of those dishes tastes dry, dark, and savory, a bit like turkey. But we implore you to not fill up on those comparatively normal dishes before taking at least a nibble of a rabbit head. It may be scary, but after one bite, you'll feel like you defeated a monster.
Grandma's Rabbit Head Restaurant
Daily 11am-2.30am. 48 Dongsanhuan Nanlu, Chaoyang District (6540 5858)
雙流老媽兔頭:朝陽區東三環南路48號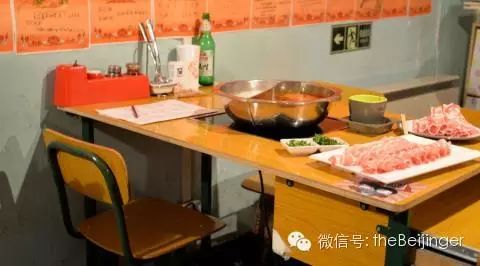 Nostalgic broth at Number 8 Hotpot
Countless Chinese high school students have surely daydreamed about gobbling up some hotpot, and perhaps even gulping down some beer while they hunched over their desks and endlessly crammed for state exams. That fantasy finally comes true at Number 8 Hotpot. Instead of standard restaurant tables, this venue has outfitted school desks with hot pot heaters. Patrons can feel like pupils again as they check off the items they wish to order with a pencil on a paper menu that resembles a pop quiz (that food is quite simple when compared to the decor, like a plateful of lean and savory lamb (RMB 28), or the sweeter, more tender servings of mutton (RMB 22). The walls are lined with jiang zhuang certificates of merit, and the servers wear adorably childish hoodies emblazoned with pictures of red scarf-clad young pioneers. These creative elements will not only make customers want to chow down, but also "good good study, day day up."
Number 8 Hotpot
Daily 10.30am-late. 8 Xinjian Hutong, Xicheng District (6608 8880)
8號苑秘制火鍋:西城區新建衚衕甲8號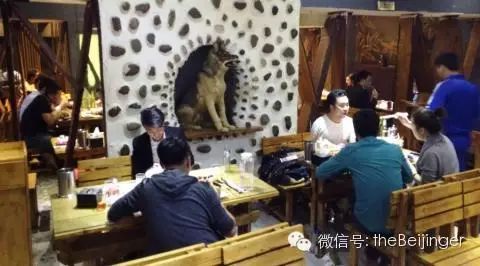 Carnivorous chuan'r at Tulang Buluo Chuanba
This chuan'r joint's wolf motif will make meat eaters feel like they're head of the pack. Statues and photos of carnivorous canines line the walls (one particularly strange photoshopped image literally depicts a wolf in sheep's clothing). Patrons can feast their eyes on that surreal decor, then bare their teeth and devour chicken wing (RMB 6) and lamb chuan'r (RMB 15 for five). Prudent patrons looking to balance their meals can order the roast eggplant dish (RMB 8), which fills a small plate and is doused in savory garlic and pepper sauce. However, the meat fiends comprising most of this restaurant's clientele will likely prefer the bacon-wrapped mushrooms (RMB 5). As customers chomp away on their chuan'r, they're sure to be amused by not only the wolf imagery on the walls, but also the rope swing seats in the far corner, and the criss-cross wooden lattice barriers between many of the rows of tables, which resemble the branches of a forest. Together, these features make diners feel like they're answering the call of the wild.
Tulang Buluo Chuanba
Daily 10.30am-3am. Tuanjiehu Lu Beikou, Chaoyang District (6582 4637)
土狼部落串吧 :朝陽區團結湖北口肯德基向南50米路西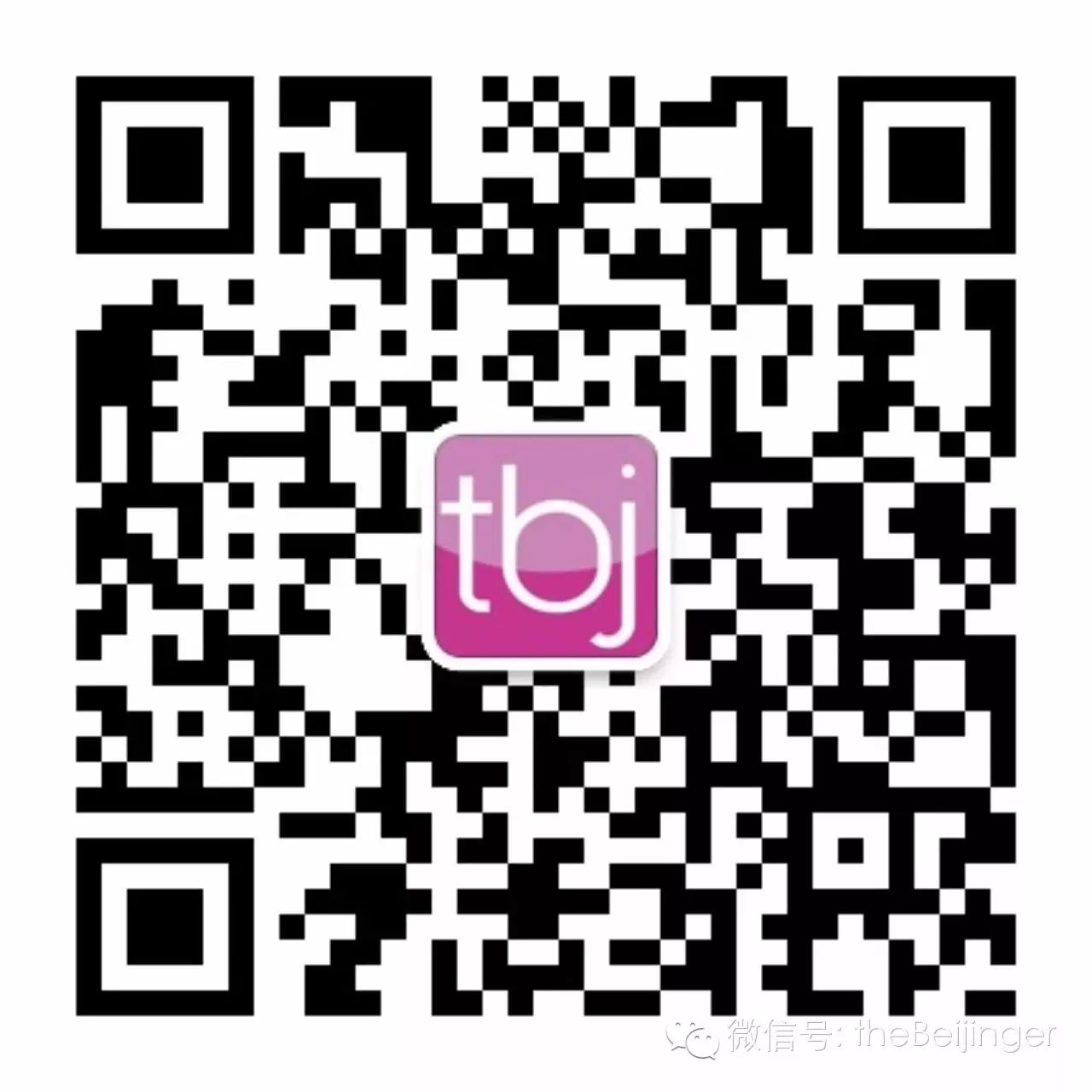 Written by Kyle Mullin