How a startup is getting India to say 'Hello English'
A few months ago, Pranshu Bhandari got a call from a clothing factory owner. He was thanking her for her work onHello English, an app that teaches English to speakers of 15 different Indian languages. Because of the app, he told her, 50 of his factory workers were currently learning English.

The surprise came when the owner told Pranshu that the workers didn't have email addresses.
Pranshu tells me: "I said, 'If they don't have email IDs, how did they download the app?' No one has Internet on their phones, so they just took one person's app over Bluetooth, and that's how they were learning with the app."
It's a story that fits with the history of Hello English's parent company CultureAlley – which Pranshu founded, along with Nishant Patni – and the market that it is trying to access and serve.


The world's English
"To give you some context," says Pranshu," We actually started CultureAlley as a platform for people to learn foreign languages. Languages like Spanish, Mandarin, Portuguese, and so on. But while we were doing that – it was a web-based platform at that time – we realized that English was a much, much larger market."
She has a point. For example, according to the European Union website, in 2013, 94 percent of students upper are studying English as a foreign language around their high school years. The next language down is French, which 24 percent of EU students study. In an Ambient Insight studyconducted in 2013, English language learning products generated US$35.5 billion – 63 percent of the entire language learning market
When Pranshu and her team looked at the language learning market, they realized that one of the biggest markets for learning English was, as she describes it, "back home."
"For someone who's learning English, it's a do or die situation," Pranshu says. "In India, folks who do not speak proper English are not able to get better jobs. Some of them are not even able to get their first job. We realized that English was that really [fundamental] need that was a must-have for people."


Talking with the grownups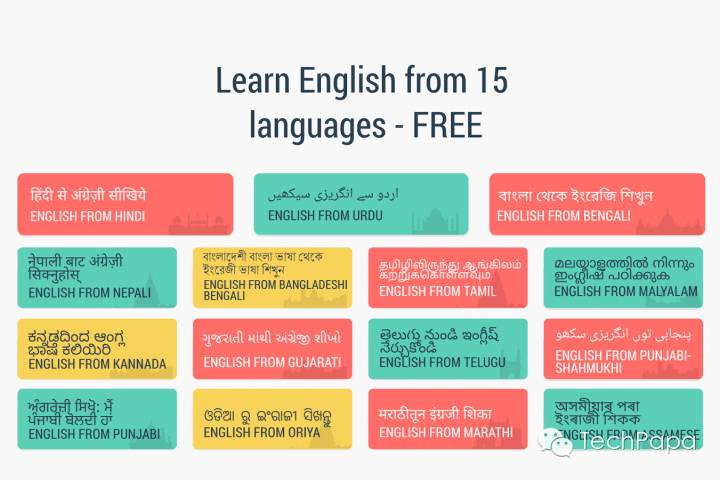 The result was Hello English, which launched in October 2014. Different from other language learning software, which teaches with a long-term goal of comprehension or in a way that one would teach English to children (i.e. learning the alphabet, learning words like "dog"), Hello English is designed with adults in mind who are learning English as a second language. Besides 250 built-in lessons for a user, it also uses games, virtual conversations, and, for more experienced users, the news to teach English and create a higher level of engagement.
"A lot of research went into it in terms of understanding what these users want, as far as speakers who are adults and who speak a language already versus someone learning English as a first language, primary as well as secondary," says Pranshu.
CultureAlley employed language experts from Oxford University for help with the app as well as local experts who specialized in each of the languages supported by Hello English. The result was an app that was not only personalized for adults but also personalized for each speaker's native language.
"A Hindi speaker, for example, will make mistakes because he or she is thinking in Hindi and translating into English. The app thinks of mistakes [speakers of specific native languages] will make and will create ways to get around that," Pranshu says.
Since Pranshu and her team have the advantage of being local, that gives them a little bit of an edge but also a greater understanding of the difficulties in serving a mobile-first population where data is often expensive and hard to get.
"Our users are not the most savvy users. At most, they have three or four apps on their phone. You want to make it for the user using the most basic handset, who doesn't have experience using a lot of apps," Pranshu says. "Striking that balance—having a super cool feature-rich app but serving the user, not using a lot of data, is something that keeps our project managers rubbing their heads. If we can crack that… that will be the best story for us."


Money where your mouth is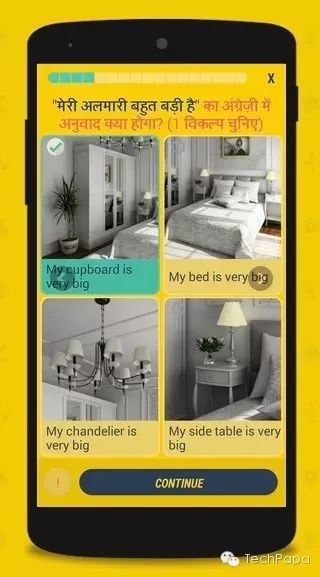 CultureAlley blipped onto the startup radar in 2013 when Mumbai-based investment company Kae Capital bought a minority stake in the startup. Just two years later, Hello English ranks number one in free educational apps in India, Pakistan, and Nepal. In March 2015, it raised US$6.5 million in its series A funding round, which was led by Tiger Global Management.
Hello English is a free app, though specialized courses in special use cases of English, such as English for an interview, is offered for a price. The app also uses in-app advertisements to generate revenue but continues to remain conscious of conserving data. For example, one doesn't need wifi to access the language lessons once downloaded.
They also offer company-specific services. For a fee, they will tailor their program to a company's specific needs and types of English. They can customize an interface with the Hello English software as the base, package it, and send it to the companies. It's not a bad deal at all.
As for future plans, CultureAlley wants to continue to focus on the English language market, hoping that Hello English can become Southeast Asia's one-stop shop for all English needs.
"We would be serving all their needs [including translation]," Pranshu says. "We want this to become a household brand. That's what we want to be in the near future."


Click and hold, then select [Extract QR code] to follow TechPapa!