[Family] 7th Annual Sunshine Academy Benefit Fair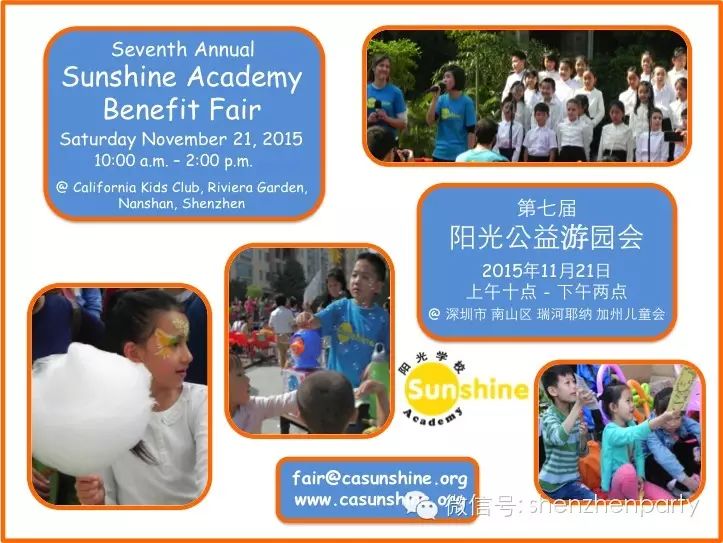 Seventh Annual Sunshine Academy Benefit Fair

Sunshine Academy was established in April 2007 in Bao'an Shenzhen. We are a registered Chinese NGO, working in partnership with the Bao'an, Dongguan and Zhuhai Social Welfare Centers (also completed projects in Shenzhen City and Longgang) located in Guangdong Province, PRC. We are also a registered non-profit 501(c)3 in the United States.
Sunshine Academy is enabled by private donations and gifts from people like you, corporations, and community groups. All administrative overhead is underwritten by the Bauer Family therefore 100% of your donation goes to staffing our team to directly benefit the children. Last year two thousand people enjoyed this family event so please come and join in the fun for the Seventh Annual Sunshine Academy Benefit Fair! This community event is designed for the entire family with the proceeds going to the Sunshine Academy kids! Food, music, art, sports, and shopping are all apart of this fantastic day.
International Food Court: Watch French crepes being made before your eyes, taste an oven roasted Thanksgiving Turkey; enjoy BBQ or cotton candy all at the International Food Court! You and your family or friends can register for a booth and sell your aunt's famous dumplings or your children's favorite food! Don't forget a cup of fresh coffee or wine tasting to top the meal off! The delicious aromas coming from the International Food Court will satisfy your cravings as you support the Sunshine kids!

第七屆陽光公益游園會

陽光學校在2007年4月成立於深圳寶安。我們是一個在中國註冊的民辦非營利性機構,與 深圳寶安,東莞市、珠海 (以及完成合作的深圳市和龍崗區)社會福利中心合作,為生活在福利 中心的孩子們提供高品質的教育、專業護理及關愛,我們也在美國註冊為非營利性機構。
因著您以及像您這樣熱心公益的個人、公司和公共團體的慷概資助,陽光學校才能夠不斷的 發展壯大。Bauer 夫婦負責承擔所有的行政費用,因此您的熱心捐贈將到達陽光團隊,直接使 孩子們受益。去年兩千人參加了這一家庭盛會,所以快來參加我們第七屆陽光公益游園會吧! 這一社區活動是為整個家庭設計的,全部收益將直接用於陽光兒童!美食、音樂、藝術和購物 將成為美好一天的一部分。
在國際美食街親眼觀看法式博餅的製作;品嘗剛剛出爐的感恩節火雞;享受燒烤或棉花糖。您 和您的家人或者朋友可以申請一個攤位來賣水餃或您孩子喜歡的食物!不要忘記在享受美食後 來一杯現磨咖啡或紅酒哦!來自國際美食街的香味會滿足您對美食的渴望,你也能支持到陽光 孩童!
Event Date: Saturday, November 21, 2015 - 10:00am - 2:00pm
Pricing Info: Free Entry
Booking Phone Number: 0755-86268617
Place Name and Address: California Kids Club, he Riviera Site Baishi Rd. & Shenwan 3rd Rd. Nanshan District, Shenzhen 86260010 The Four Seasons Site Meibei Road 9-1 Futian District, Shenzhen 83298600
瑞河耶納 廣東省深圳市南山區 白石路與深灣三路交界 瑞河耶納會所三樓 86260010 四季山水 深圳市福田區 上梅林梅北路9-1號 四季山水花園 83298600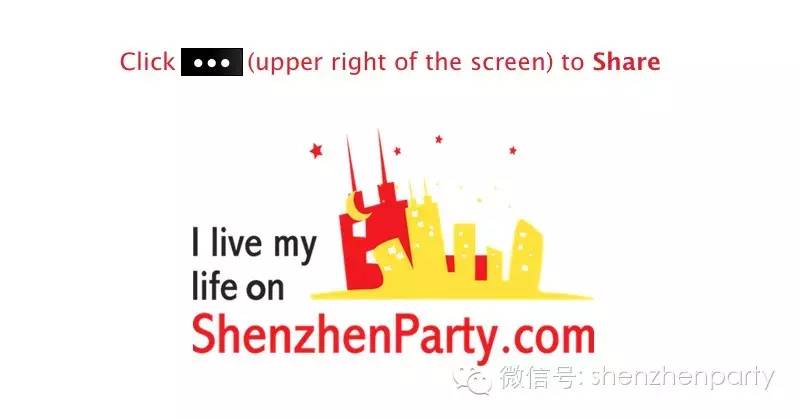 ---
Long-press the QR Code, tap "Extract QR Code" to Follow "shenzhenparty" on Wechat:
For more details, please click "Read More".