Viral Letter: Woman Quits Job After End of One-Child Policy
writer: Manya Koetse source: whatsonweibo.com

The resignation letter of one Ningbo woman has gone viral on Chinese social media. She wrote the letter after hearing about the end of China's one-child policy.
It did not take long for one resignation letter to make its rounds on China's social media. The letter was originally posted in a WeChat group by a woman named Wu from Ningbo, in the northeast of China. One of the group's members then put it online. It says:
"The policy has loosened, I'll resign and go home,
Take care of my body, and give birth again"
(政策放開,辭職回家,養好身體,再生一娃)"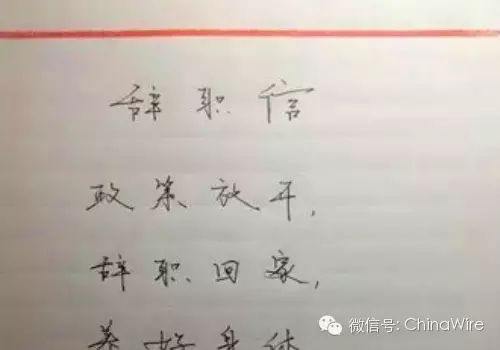 As the picture of the letter was spread amongst netizens, Wu was not only praised for her poetic way of resigning, but also for her courage to do to.
According to Ningbo's BLnews, the writer of the letter is a 1980s generation social worker. A Blnews journalist reportedly spoke to Mrs. Wu on November 5th. She stated: "I felt like my current job did not really suit me. I already handed in my offical resignation letter two weeks ago."
Wu and her husband already have a child, but both longed for another baby. Because they were both not born as an only child, policy prevented them from having a second child. As soon as they heard about the loosening of the one-child policy, Wu felt she should write another resignation letter. "We're so happy with the new policy," she tells BLnews: "I felt like I should seize the opportunity and write another notice."
Wu has not left officially her job yet. "With getting a second child, you just have to let nature take its course," she says: "If I get another job opportunity after this one, I will take it."
The letter has led to discussions on Sina Weibo on the choice between a (second) baby or one's career. Author Li Zhixing (歷知幸) responds: "The loosening of the one-child policy might lead to a surge in women returning to the household. But with current laws, full-time housewives are not entitled to relevant rights. At the same time, there is more pressure on working women due to changing public opinion. As for starting a career at a private company; the boss, of course, will rather choose a man to fill a vacancy than a woman who might take maternity leave twice."
Also without the news of Wu's letter, the effects of the one-child policy are a much-discussed topic on Weibo these days. Many people discuss if having a second child is an option at all. "I called my mother about the second pregnancy thing, and she does not agree," one user says: "She was quite harsh, and asked me if I wasn't tired enough already."
There are also those who do not trust the media's goal to bring the news about the letter, with some claiming it has been purposely hyped, and others saying: "Grass mud horse [f*** you], now you've suddenly started to lure us into having babies. Where's your integrity?!"
Other netizens are less concerned about the societal effects of the 'two-child policy'. "I finally have a good reason to quit my job," one woman writes.